March is a Madness
Check it out!
BLACK OWNED NWA
WALTON ARTS CENTER GIVEAWAY
4 TICKETS MARCH 5TH
Does your family like to boogie? Then join Indigo Blume and her barnyard pals, Acoustic Rooster, Dairy Parton, Chickee Minaj, and more iconic characters in Acoustic Rooster's Barnyard Boogie Starring Indigo Blume. This musical adventure for kids and parents will have you tapping your feet and singing along to the rhythms of jazz, soul, rock 'n' roll, blues, hip hop and more!  Tickets are just $10! >> https://waltonartscenter.org/tickets/series/kids-series/acoustic-roosters-barnyard-boogie/
Email jazzyjaenwa@gmail.com "BarnyardBoogie" to enter. Winner will be announced at noon March 4th.
FAYETTEVILLE
Rick Ross at JJ's Live! 
Join us Friday, March 3rd for Rick Ross at JJ's Live in Fayetteville, Arkansas!
Tickets on sale now: https://stubs.net/tickets/4904/rick-ross-at-jjs-live
Doors open at 6:00pm Music starts at 7:30pm
Cosmic AF
Friday, March 3rd, 7:00-9:00pm
509 W Spring St Suite 225, Fayetteville, AR 72701
Matriarchs of Mankind host by Her Set, Her Sound
Saturday, March 4th, 8:00am-11:00pm
Mount Sequoyah 150 N Skyline Dr. Fayetteville, AR 72701
Aftershow tickets!
https://www.eventbrite.com/e/the-mom-set-after-tickets-546609312167
Reggae NWA Presents 1st Saturdays
Thing called OUT N' BAD
Saturday, March 4th, 10:00pm-2:00am
Bugsy's Fayetteville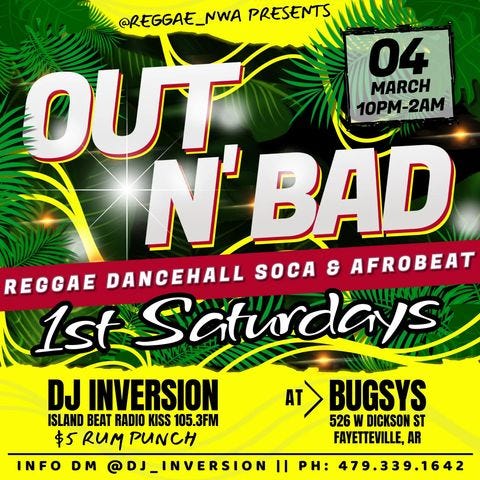 Acoustic Rooster's Barnyard Boogie Starring Indigo Blume
Sunday, March 5th, 4:00pm
Baum Walker Hall at Walton Arts Center
TICKETS: $10
https://waltonartscenter.org/tickets/series/kids-series/acoustic-roosters-barnyard-boogie/
Lunch & Learn: Homebuying Seminar
Date: Sat, Mar 11 • 11:00 AM CST
Location: 560 North Rupple Road, Fayetteville, AR 72704
https://www.eventbrite.com/e/lunch-learn-homebuying-seminar-tickets-538382686107?aff=eand
Innovation Speakers: An Evening with Boots Riley
Monday, March 13th, 6:00-8:00pm
Fayetteville Public Library
https://www.faylib.org/event/7983360?utm_campaign=later-linkinbio-fayettevillepubliclibrary&utm_content=later-33144011&utm_medium=social&utm_source=linkin.bio
Cocktails & Conversations - Arts
Date: Mon, Mar 20 • 6:00 PM CDT
Location: 477 West Spring Street, Fayetteville, AR 72701
https://www.eventbrite.com/e/cocktails-conversations-arts-tickets-551552617727?aff=eand
ROGERS, SPRINGDALE & LOWELL
Karaoke + Vibes
Saturday, March 11th, 2023, 7:00-11:00pm
Aloft Hotel Rogers-Bentonville 1103 South 52nd Street Rogers, AR 72758
https://www.eventbrite.com/e/karaoke-vibes-tickets-548200832447
Black Women Invest Monthly Chapter Meetup
Date: Fri, Mar 17 • 6:00 PM CDT
Location: 6461 E Guy Terry Road, Springdale, AR 72764
https://www.eventbrite.com/e/black-women-invest-monthly-chapter-meetup-tickets-567297561277?aff=eand
Reggae NWA Presents 1st Saturdays
Thing called Reggae Rising
Saturday, March 18th, 10:00pm-2:30am
OZ Smokehouse 
https://facebook.com/events/s/reggae-rising-featuring-dj-inv/574265514730599/
BENTONVILLE
Sugar Apple Baking Co-  We are back at it and this time in Bentonville! Hillfolkshop on Sunday, March 12 at 12 pm!
We will be there with @renditioncandc and @maslibritosbookstore 
Miscellaneous
Every Monday
Join Melanie @melbellgaz for Yoga Flow Monday evenings at 7pm @ Conley Fitness!
Conley Fitness, LLC (@conleyfitness) • Instagram photos and videos
Every Wednesday
Cardio Groove with Kathy at 6pm
$10 Guest Fee Free for Conley Fitness Members
Every Thursday
Did you know every Thursday at Starlight Skatium is Adult Skate Night? With DJ Mixx Tenn on the 1's and 2's you can get your roll bounce on from 8pm to 11pm.
---
Business Resource Corner
Her Entrepreneur Journey
Tuesday March 7th
Ella's Table
https://facebook.com/events/s/her-entrepreneur-journey-women/544591127601215/
For The Community
Gift Minds Scholarship - Deadline April 1st 
Michelle McGowan Gray & Derrick Andre Gray, MD
The Gifted Minds scholarship was developed to financially assist high school seniors who grew up in single-family homes.
For more information click on the following link: https://docs.google.com/document/d/1KroybuNlnm8R_LcC1itEC18kpbajOwKHFLFcTKBvfto/edit?fbclid=IwAR09xF9y9NxGf0q_CMFwm6luJGK4I_J_eC43Oj5-0tVNERoASyoQcB4sWmo
Alpha Kappa Alpha & Tea Rose Foundation of NWA Scholarship Deadline April 9th
For more information, please visit: http://akapao.com/scholarships
The Black Alumni Society (BAS) is hosting its biennial reunion on April 10-16, 2023.
Registration is open:
https://www.arkansasalumni.org/s/1429/bp20/interior.aspx?sid=1429&gid=1&pgid=4982
---
Black-Owned NWA Shoppable Directory
We celebrate, amplify, and highlight Black Owned Businesses 24/7. Black Owned NWA is excited to announce our partnership with Pebble to develop a shoppable directory for Black Owned Businesses in the region. 
Shop Here:
https://pebble.shop/community/black-owned-nwa
Join Here:
https://shopwithpebble.com/login?r=%2Faccount%2Finvitation%2F09b27cb2-b040-4c13-9d69-0974d548f5ee
---
Black-Owned NWA Social Media Highlight
Want to be featured on BlackOwnedNWA?
We can't express how excited we are to feature local black-owned brands and the owners behind them! Featuring you and your business is truly a privilege and we appreciate your time. The goal of BlackOwnedNWA is to be a resource of all things Black excellence in the region.
To be featured on BlackOwnedNWA's Instagram and Facebook page:
Step 1- Email us your responses to the interview questions below jazzyjaenwa@gmail.com
Step 2- Send us the highest quality pictures of you, your service/product, and location if applicable
Step 3- Include the best way for our followers to find you (i.e. social media handles)
Interview Questions
1- Tell us about yourself. (This should be written in the first person as you will be introducing yourself to the BlackOwnedNWA community) Give us 4-6 sentences that showcase the best of you!
Prompts: Your name, where you are originally from, how long you've lived in the area, etc.
2- Tell us about your business.
3- Why did you start your business?
4- What advice would you give other Black entrepreneurs starting out, especially in Northwest Arkansas?
5-What's the best piece of business advice you've ever been given?
What to expect:
You'll be featured on the BlackOwnedNWA Instagram 2 to 6 weeks after we receive your information!